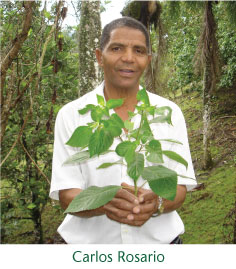 A trip with PRHDR would not be complete without the lecture given twice a year by Carlos Rosario. Pictured here gathering some plants for his lecture, Carlos engages his audience by sharing his knowledge and beliefs about the use of plants for healing that he learned from his great aunt who was a practitioner in traditional Dominican healing and beliefs.
PRHDR Volunteer, Marisa Crommett, wrote her senior thesis on encouraging the preservation of Dominican traditional beliefs and customs in NYC and increasing biomedical practitioners' awareness of traditional knowledge. While attending Carlos's lecture, she took notes and photographed all of the plants he collected.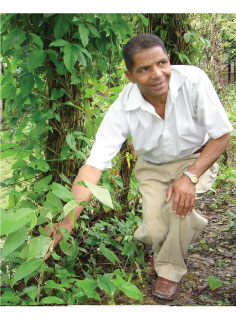 She presented Partners with the attached document entitled, "Dominican Medicinal Plant Inventory". She says, "The plant inventory is an appendix to my thesis. The plants have been matched with their corresponding scientific name and verified for their medicinal properties and uses with other sources such as Duke's Handbook of Medicinal Plants of Latin America and the New York Botanical Garden's, Dominican Medicinal Plants: A Guide for Health Care Providers." She adds, "I think that having this handy could serve as a guide to aid with doctor-interpreter-patient interactions if the patient is using vernacular to refer to Dominican plant species or remedies."